Trailer and Industrial Vehicle Wash
At Capital Wash Inc., we know all about commercial trucks and the importance of having clean equipment. Trucks and trailers rust and deteriorate if they're not cleaned. Then you have $1000's of work to get it road-worthy again. Don't wait to get yours cleaned. We are part of a group of companies that have been in the trucking business since 1971. We take pride in our equipment, which led us to build the truck wash in 2002.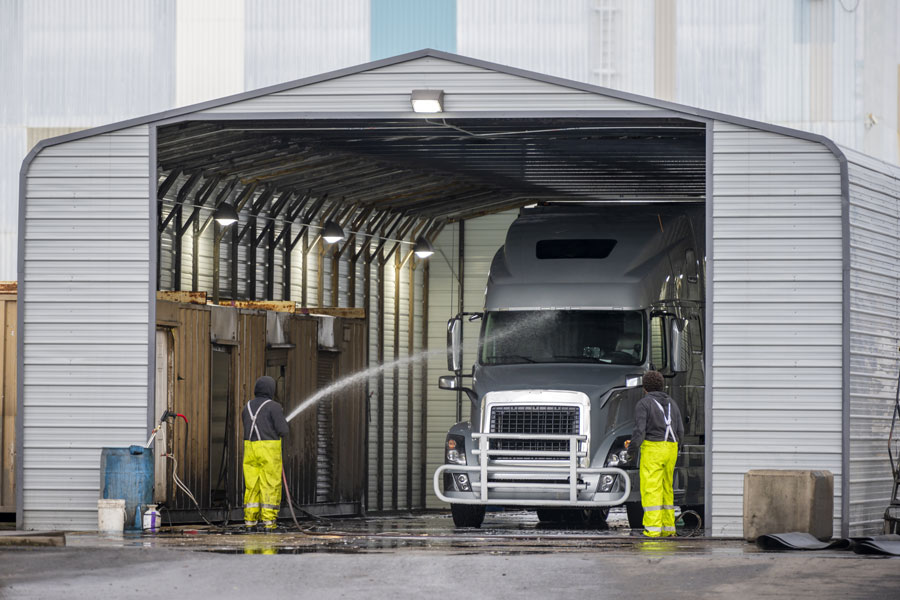 State of the Art Professional

Equipment
We are dedicated to making sure you get your commercial trucks and trailers clean by providing state-of-the-art, professional equipment in a large three-bay facility. We offer custom wash services for commercial vehicles.
We do weekend cleaning to suit your schedule
Wash hour is Mon to Sun 7:00 am-6:30 pm
Wash time is 'down time' for truckers. No appointment needed, get in at short notice. We know that routine wash is required for food-related transport. Other vehicles need to get in when they are dirty. We make your wash a priority.
Dedicated to Excellence
You can see our commitment to excellence in our top-quality soaps, foams, and disinfectants. We use this facility to clean our own vehicles so you can be sure we will treat yours with the same precision and care. With our Transall Group of Companies' various fleets hauling anything from food-grade products to cattle and hogs, the wash personnel must provide a quality grade washout. To achieve a successful washout, our staff go directly into the equipment with their wands versus performing a fire hose rinse out. We are very proud of our ability to prevent contamination of food-grade products and strive to use products and techniques to ensure quality washes every time.
"100% I would refer Capital to anyone looking for a provider of these services."​
"The manager there is fantastic to work with. He always tries to squeeze us in."
"Good access for quick rinses."
"Up to date and working well."